The Federalist Party decoded: An interview with activist JD Rucker
"I decided that somebody's got to do it, if nobody else will, then I must."
I had the pleasure of speaking at length with head of the Federalist Party, political activist JD Rucker. I became intrigued by Rucker after I learned of the Federalist Party's existence and their fundamentally different approach to challenging the two-party system. In our current climate of political mayhem, could a third-party be a feasible alternative for the somewhat ideologically homeless conservative? I thought speaking with Rucker would be a good place to begin.
From start to finish, the conversation with Rucker was both enlightening and heartening. Rucker's understanding of what fundamentally plagues our political system is in congruence with many disillusioned conservatives—the Right's disappointing failure to fight "big government" has morphed into a growing fondness for bloated bureaucracy. And therein, Rucker defines what he believes to be the purpose of the Federalist Party: "Our third party is designed in particular to essentially pull them [GOP] back to the Right, if that's even possible. And if not, then we are prepared to take over."
He sees the Federalist Party as a "reminder" that the GOP can no longer take the conservative vote for granted.  But Rucker isn't obtuse on how we got here—he's direct and forthright when he flatly states, "We have allowed the government to do this to us."
He's also not naïve about the abysmal success rate to which third parties typically fall privy. However, he does identify the Federalist Party strategy as decidedly different, proclaiming "the primary difference for us is that we are going to build this from the local level, up."  He coins the Federalist Party's approach as "bottom-up" in nature, focused on creating an initial footprint in everything from sheriff elections to city council elections to state legislative elections. And indeed, for a party focused on returning power to communities, this approach is refreshingly organic.
Rucker wrote a piece several weeks ago discussing how federalism isn't about protecting states but rather about protecting the individual. When I asked him about this particular message, he expounded in detail on the government's general failure to serve the "primacy" of the individual, who has now been belittled by the ever-expanding state.  Rucker then admits that Americans now are looking for "leaders to save them," and this desire is fundamentally flawed: "Government should enable the people to find a solution—government was never designed to be the solution."
In Rucker's eyes, "the individual can solve problems for him or herself better than any government action." And Rucker believes the Federalist Party is geared towards reintroducing the long-lost individual back into the political sphere, specifically by enabling and encouraging people to take more active roles in their communities.
The Federalist Party's main goal is to demonstrate how genuinely small government—manifested as the "localization of efforts"—can benefit people's causes more than a larger federal apparatus can. From Rucker's point of view, federalism or "taking care of your own local area" is much more impactful than tackling a wide range of issues on a global scale. Given this metric holds true for both the conservative and the liberal, he envisions the Federalist Party as appealing to a variety of figures from across the political spectrum.
And baked into this understanding of federalism's appeal is Rucker's conception of what the party's approach should be. Indeed, his vision for the Federalist Party is one prudently defined by longevity, rather than by capturing a few seats in 2018.  In fact, he could not have emphasized to me more strongly the importance of 2032 over the impending midterm elections.
But perhaps the most interesting part of my interview with JD revolved around his entrance into politics. It wasn't a foray marked by a prestigious law degree or longish stint at a private equity firm.  Rucker described himself as simply a politically engaged person who realized about fifteen years ago that the Republican Party had approached a stage beyond saving and that it would be far better to structure a new party around a truly conservative perspective. Rucker succinctly explained his own involvement by stating, "Nobody else was doing it and I felt somebody needed to."
What struck me as most impressive about Rucker, beyond his assessment of the current political climate and his prescription for reform, was his depthless humility. I am ending with his own words because I don't believe I could do them quite justice. Needless to say, my interview with JD Rucker gives me hope that the citizenry is still capable of producing selfless and thoughtful leaders. In a time of an ever-expanding federal apparatus, made fat by unabated spending, I am encouraged by thinkers like JD who not only diagnose problems with poise but also have the drive to tackle them.  In the words of JD Rucker:
"I want to be clear. People like to put me down as 'cofounder' of the Federalist Party. I look at myself as specifically just a caretaker. Just to get this up and running until more people—better people, smarter people—can get involved. That is all."
If you are interested in learning more about the Federalist Party and what Rucker and others are doing on behalf of conservatism, feel free to visit thefederalistparty.org.  You can follow JD Rucker on Twitter at @JDRucker.
16 states hit 9th Circuit to sue President Trump, as expected
It was one of the most replayed parts of President Trump's announcement regarding his national emergency declaration last Friday – a sing-song moment as the President predicted the declaration would be made, Democrats would sue, they'd go through the 9th circuit, and their decision will hopefully be overturned by the Supreme Court. So far, he's been absolutely correct as 16 states have filed against the declaration.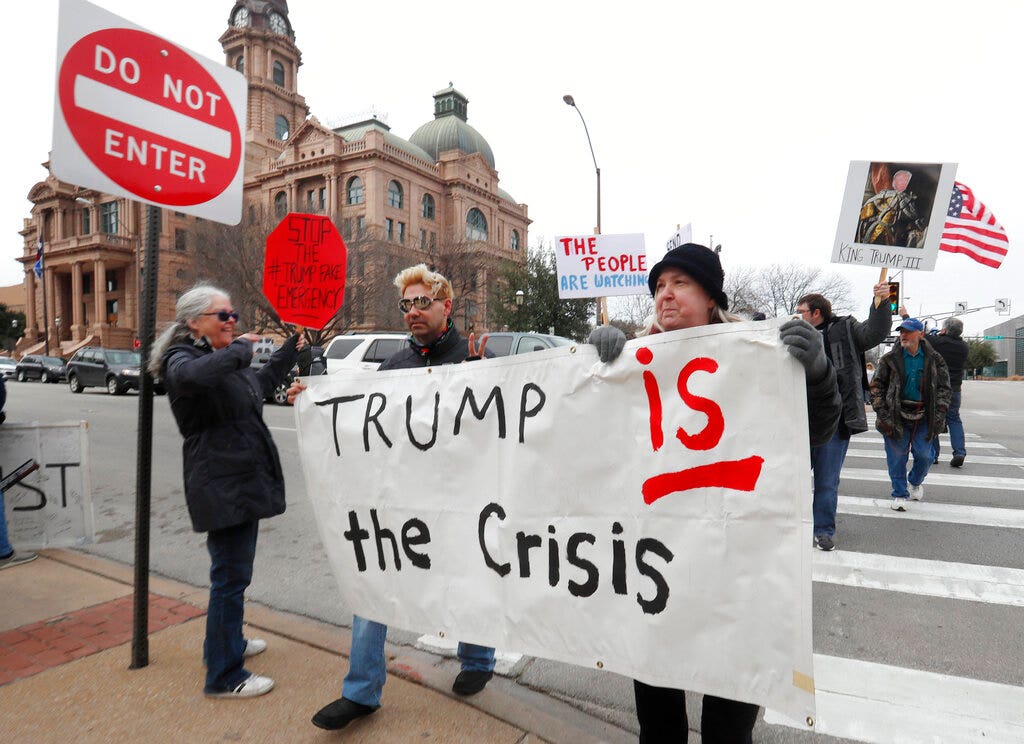 The attorneys general of California, New York, and 14 other states on Monday filed a lawsuit in the Ninth Circuit against the White House's recent national emergency declaration over border security, claiming President Trump has "veered the country toward a constitutional crisis of his own making."
President Trump sarcastically had predicted the lawsuit last week. He's slammed the Ninth Circuit multiple times as "disgraceful" and politically biased.
My Take
This is their right, and while it may annoy those who support building the border wall, it would be a mistake to condemn these states for trying to stop it. This is part of the way our nation is intended to operate. If one or more states feel the need to challenge the authority of Washington DC, they should be able to make their case before the courts. If the courts make decisions based on the Constitution, then the end result will be the accurate and righteous one.
That's how this was all intended.
I'm not suggesting the 9th Circuit is going to treat this fairly, nor am I confident the Supreme Court will make its decision solely on the Constitution, but until things are changed, this is what we've got. Attempts to subvert any component of this system from the President's right to declare the emergency to the states' rights to challenge it to the courts' responsibility to make a ruling about it all would be to denounce the foundation upon which this nation was built.
There was a way this could have been avoided. Had the President and the GOP decided to have the debate over the wall while they had power over the House, Senate, and White House, they would have been in better position to get the wall going by now. Unfortunately, they an improper political calculation to hold off on the wall debate until after the midterm elections, and now it's costing the American citizens. It costs us money to sit here through the shutdown and the legal battle over the national emergency declaration. It's costing us time; the wall should be much further along by now. It may end up costing us the wall altogether if they aren't able to make a strong case before the Supreme Court.
We are in the midst of a crisis at the border, one that has been going on for decades. Let's not exacerbate the crisis by adding a Constitutional crisis on top. This needs to play all the way out.
Liz Wheeler on the most disgusting part of the Jussie Smollett scandal
There are plenty of things about the Jussie Smollett scandal that should disgust us. The instant reaction by celebrities, politicians, and the media is right there at the top, especially when we consider how many are now saying, "let's wait for the facts." The notion that a successful gay black man thought it appropriate to make himself seem like a victim is also up there.
As One America News Network's Liz Wheeler points out, we should also be disgusted that Smollett chose this victim status over being a strong leader and role model for less privileged black and gay people who could have looked up to him for his strength instead of now being scornful of his weakness.
What does that say about America when the left tries so hard to build the narrative that everything is wrong, they're unwilling to recognize the real problems that are plaguing America. Why? Because they're the biggest part of the problem.
Leftist media pushes back on Green New Deal criticism
It's been an up-and-down couple of weeks for proponents of the Green New Deal. Before details were released, it was already being heralded as the greatest thing since President Obama's election. Then, the details came out and even many on the left were taken aback by the ambitious and incoherent provisions of the deal as detailed in a FAQ section on Representative Alexandria Ocasio-Cortez's government web page.
But that was just a draft. They took it down. At least that was the story.
Unfortunately for proponents, they were caught a little flat-footed as questions started pouring in about, well, all of it. Even if we dismiss the less-draconian concepts such as eliminating air travel or the less-sane ideas like taking care of those who are unwilling to work, the left is still stuck with a proposal that the most frugal estimates put at costing around $7 trillion while other's consider the decade-long cost to be in the HUNDREDS of trillions of dollars.
This is, of course, ludicrous. There's not enough money in the entire world to pay for the proposal if its cost is somewhere between the lowest and highest estimates, but that hasn't stopped leftist media from regrouping. Now that the dust has settled a little bit, they're doing everything they can to recommit to this concept. It's not that they suddenly believe in this fairy tale. It's that they don't want this to be the issue Republicans attack in the 2020 elections.
One article in particular that I read from CNN (yes, sometimes I need to see what the other side is thinking) really struck me for its honesty about the situation. Though I stopped reading it in paragraph two when it referred to "non-partisan" PolitiFact, I went back to it just now to digest the awfulness fully (see the sacrifices I make for our readers!).
I tried to read this article. I really did. But @DeanObeidallah lost me in paragraph two when he referred to the "non-partisan" Politifact. https://t.co/bjRAXbN2b0

— JD Rucker (@JDRucker) February 19, 2019
To be clear, much of what this article says is correct. It asserts the GOP will take the tenets of the Green New Deal and use it to scare voters into thinking it's even worse than Obamacare. From 2010 through 2016, Republicans attacked Obamacare incessantly and it worked, giving them the House in 2010, the Senate in 2014, and the White House in 2016. Unfortunately, they stopped there and didn't actually go after Obamacare with the same fervor they held in their campaign rhetoric and now the Democrats have turned the issue on its head.
But here's the thing. Obamacare may have been bad, but the Green New Deal truly is worse. It's not even close. Even if we take at face value the notion that the Green New Deal is simply an ambitious framework around which real legislation can be forged, we have to look at the core issues entailed in order to see the true damage it can do. This is a socialist document. It's a call for the same levels of insanity that drive the Medicare-for-All movement. Within its frivolous attempts to change perceptions of air travel, cows, and job creation is a deep-rooted desire to convert Americans to needing more government.
NOQ Report needs your support.
The Green New Deal represents the far-left's desire to make more American dependent on government. At the same time, it aims to increase the levels of dependency for those who are already in need of assistance. It wants Democrats to latch their wagons on the notion that if we become a militantly environmentalist nation, that will serve the dual purpose of giving us fulfillment while saving the planet.
I believe most leftist journalists understand this, but they see in the ridiculous framework a path through which Republicans can be defeated wholesale in 2020 as long as the left can control the narrative surrounding the Green New Deal. They fear another Obamacare counterinsurgency that would wipe out the anti-Trump gains they made in 2018, so they've adopted a stance that the Green New Deal isn't as bad as Fox News says it is. Meanwhile, they're doing everything they can to say, "look over here and not at the Green New Deal."
Don't misread leftist media's resurging push to defend the Green New Deal as actually believing it's a good idea. Their big concern is if they don't nip it in the bud now, it'll harm Democrats in 2020. So they say "it's good, don't worry," and move on to another subject.

— JD Rucker (@JDRucker) February 19, 2019
The politics behind what the Green New Deal represents is more in play than the tenets of the proposal itself, at least in the eyes of leftist media. It's not that they want to promote the concept. They simply don't want the concept to derail their party in the next election.