Free Speech in 'The New Socialist Republic of North America'
I'm not sure I could put forth a better argument for limited government than a June 12, 2017, article published on the website for the Revolutionary Communist Party has unintentionally put forth. Actually, this group's views are literally the reason we Americans must stay true to our limited government, federalist values.
For those of you who've never ventured over to revcom.us, it's a glimpse into the "cult of personality" that has characterized so many ill-fated utopian movements; its members falling over in adulation, hanging upon every word blasted from the mouth of their charismatic anti-Christ. The phrase, "They drank the Kool-Aid" comes to mind. It's pretty creepy… but I digress.
The article is entitled, "Why We Argue For Shutting Down Fascists Like Ann Coulter – And Why We Will Protect Free Speech In Socialist Society." The free speech hypocrisy of the radical left has always perplexed me… and irritated me, to be completely honest. One minute the members of the Stalanist mob are doing everything wildly imaginable to prevent a college speaker from exercising his/her right to speak freely; the next minute the mob members are proclaiming their Constitutional right of free speech (and due process). Needless to say I was a bit surprised at the honesty which lay in the very title of this "RevCom" article.
What struck me wasn't so much the author's (Bob Avakian, the cult's mysterious and charismatic leader) forthright acknowledgement of the radical movement's double standard when it comes to free speech. What really struck me was how greatly I misunderstood the socialist concept of free speech.
As I learned, the socialist view of free speech is power, it is who holds the power, and it is who has access to a platform to thus use that power. Therefore, free speech should be applied unequally. It is to be provided differently for everyone in the new socialist society based on certain "concrete situations."
Thus begins the justifications for limiting speech: (Head's up! Inventively structured and long, run-on sentences follow.)
"As a basic principle, it is ideas that are in opposition to the powers that be, and the prevailing norms, and which therefore have a hard time finding means and vehicles for expression, and are often the object of direct suppression-it is precisely those ideas whose expression needs to be protected, not those which have the force of governing powers and institutions behind them."
"It is not a level playing field!!-and there is absolutely no need to provide reactionaries, and especially outright fascists, with additional platforms to spread their poison. Indeed, providing such platforms does great harm-it legitimizes and normalizes these views."
There is no reason to worry, we are assured… Once the United States of America ceases to exist and the socialist autocracy has taken hold, "at that point we [the Revolutionary Communist Party] would hold state power!!" That's when everything will be okie-dokie, hunky-dory. Then, they'll allow "even unpopular ideas." Riiigghhhtttt………
I have to give good, ol' Bob some credit, though. He goes farther than most of the revolutionaries of this persuasion. Rather than stopping short at hollow justifications for violating free speech rights, he provides the reader with actual excerpts from The Constitution of the New Socialist Republic of North America which specifically address the issue of free speech. Yes, there is actually a "constitution" for after America has been pummeled out of existence. (The "preamble" is quite an interesting read too.)
It is the very text of this new "constitution" for this "New Socialist Republic of North America" that so acutely illuminates and inadvertently thus proves, beyond a reasonable doubt, the absolute superiority of our current Constitution of the United States of America, which enshrines the principles of limited government and individual liberty.
Let's compare:
| | |
| --- | --- |
| America's First Amendment | Free Speech Under the Constitution of the New Socialist Republic of North America (Article 3, Section 2, point 3A) |
| "Congress shall make no law respecting an establishment of religion, or prohibiting the free exercise thereof; or abridging the freedom of speech, or of the press; or the right of the people peaceably to assemble, and to petition the government for a redress of grievances." | "Freedom of speech, of assembly and association, and of dissent and protest shall not be restricted, except in cases of violation of the law and through die process of the law." |
NSRNA – Doesn't exactly roll of the tongue, does it?
The United States of America was founded upon federalism, so that a free people would never again be enslaved by the despotic chains of government. For this reason, our 1st Amendment to the Constitution openly declares the limits of which our government may not cross, preventing it from limiting mankind's right to speak freely. The 1st Amendment lists not one exception. Every time a government makes exceptions, like those found in the NSRNS excerpt above, those exceptions feed the beast within. It was our Founding Fathers' pure genius that they actually understood this.
The "constitution" of the NSRNA is just another failure in a long line of failures which leads to despotism. There is no limiting of the beast to be found in their hollow prose. There is no absolute protection of liberty for mankind. This socialist "constitution," even in this singular example regarding free speech, epitomizes intellectual impotence. This is no laughing matter. That same impotence of intellect and putrid moral rot has enslaved masses, including those presently enduring a semi-existence under the despotism in Venezuela, North Korea, Cuba, and the like.
It would be both foolish and imprudent of us to fail to consider the creeping despotism that is very much alive and at work against our country and our liberties. What less than 30 years ago had been relegated to the bowels of society has gained enough support and has effectively intimidated enough people into fearful silence, as to effectively vault this cultish fever into a position of power among the mainstream of American society.
We must stay true to the principles of Federalism: limited government and maximum individual liberty. We must remained unchained. We have to be our own movement and hold our virtues and freedoms dear. As such, I find it most appropriate to end with a brilliant quote from John Adams: "If ever a time should come, when vain and aspiring men shall possess the highest seats in Government, our country will stand in need of its experienced patriots to prevent its ruin."
16 states hit 9th Circuit to sue President Trump, as expected
It was one of the most replayed parts of President Trump's announcement regarding his national emergency declaration last Friday – a sing-song moment as the President predicted the declaration would be made, Democrats would sue, they'd go through the 9th circuit, and their decision will hopefully be overturned by the Supreme Court. So far, he's been absolutely correct as 16 states have filed against the declaration.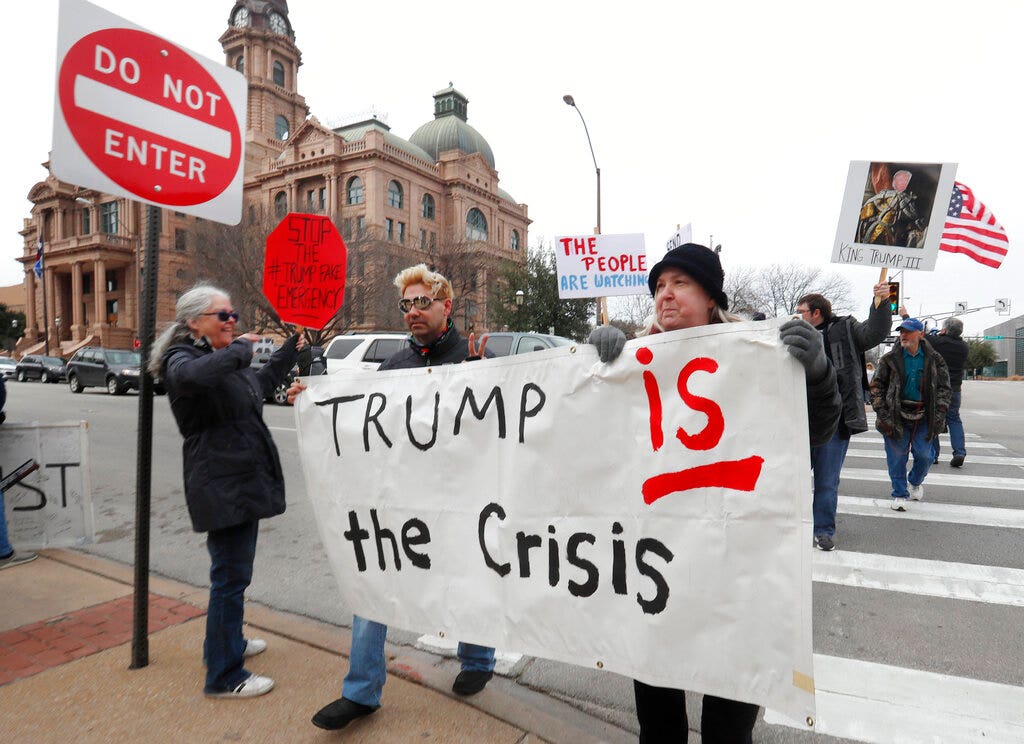 The attorneys general of California, New York, and 14 other states on Monday filed a lawsuit in the Ninth Circuit against the White House's recent national emergency declaration over border security, claiming President Trump has "veered the country toward a constitutional crisis of his own making."
President Trump sarcastically had predicted the lawsuit last week. He's slammed the Ninth Circuit multiple times as "disgraceful" and politically biased.
My Take
This is their right, and while it may annoy those who support building the border wall, it would be a mistake to condemn these states for trying to stop it. This is part of the way our nation is intended to operate. If one or more states feel the need to challenge the authority of Washington DC, they should be able to make their case before the courts. If the courts make decisions based on the Constitution, then the end result will be the accurate and righteous one.
That's how this was all intended.
I'm not suggesting the 9th Circuit is going to treat this fairly, nor am I confident the Supreme Court will make its decision solely on the Constitution, but until things are changed, this is what we've got. Attempts to subvert any component of this system from the President's right to declare the emergency to the states' rights to challenge it to the courts' responsibility to make a ruling about it all would be to denounce the foundation upon which this nation was built.
There was a way this could have been avoided. Had the President and the GOP decided to have the debate over the wall while they had power over the House, Senate, and White House, they would have been in better position to get the wall going by now. Unfortunately, they an improper political calculation to hold off on the wall debate until after the midterm elections, and now it's costing the American citizens. It costs us money to sit here through the shutdown and the legal battle over the national emergency declaration. It's costing us time; the wall should be much further along by now. It may end up costing us the wall altogether if they aren't able to make a strong case before the Supreme Court.
We are in the midst of a crisis at the border, one that has been going on for decades. Let's not exacerbate the crisis by adding a Constitutional crisis on top. This needs to play all the way out.
Liz Wheeler on the most disgusting part of the Jussie Smollett scandal
There are plenty of things about the Jussie Smollett scandal that should disgust us. The instant reaction by celebrities, politicians, and the media is right there at the top, especially when we consider how many are now saying, "let's wait for the facts." The notion that a successful gay black man thought it appropriate to make himself seem like a victim is also up there.
As One America News Network's Liz Wheeler points out, we should also be disgusted that Smollett chose this victim status over being a strong leader and role model for less privileged black and gay people who could have looked up to him for his strength instead of now being scornful of his weakness.
What does that say about America when the left tries so hard to build the narrative that everything is wrong, they're unwilling to recognize the real problems that are plaguing America. Why? Because they're the biggest part of the problem.
Leftist media pushes back on Green New Deal criticism
It's been an up-and-down couple of weeks for proponents of the Green New Deal. Before details were released, it was already being heralded as the greatest thing since President Obama's election. Then, the details came out and even many on the left were taken aback by the ambitious and incoherent provisions of the deal as detailed in a FAQ section on Representative Alexandria Ocasio-Cortez's government web page.
But that was just a draft. They took it down. At least that was the story.
Unfortunately for proponents, they were caught a little flat-footed as questions started pouring in about, well, all of it. Even if we dismiss the less-draconian concepts such as eliminating air travel or the less-sane ideas like taking care of those who are unwilling to work, the left is still stuck with a proposal that the most frugal estimates put at costing around $7 trillion while other's consider the decade-long cost to be in the HUNDREDS of trillions of dollars.
This is, of course, ludicrous. There's not enough money in the entire world to pay for the proposal if its cost is somewhere between the lowest and highest estimates, but that hasn't stopped leftist media from regrouping. Now that the dust has settled a little bit, they're doing everything they can to recommit to this concept. It's not that they suddenly believe in this fairy tale. It's that they don't want this to be the issue Republicans attack in the 2020 elections.
One article in particular that I read from CNN (yes, sometimes I need to see what the other side is thinking) really struck me for its honesty about the situation. Though I stopped reading it in paragraph two when it referred to "non-partisan" PolitiFact, I went back to it just now to digest the awfulness fully (see the sacrifices I make for our readers!).
I tried to read this article. I really did. But @DeanObeidallah lost me in paragraph two when he referred to the "non-partisan" Politifact. https://t.co/bjRAXbN2b0

— JD Rucker (@JDRucker) February 19, 2019
To be clear, much of what this article says is correct. It asserts the GOP will take the tenets of the Green New Deal and use it to scare voters into thinking it's even worse than Obamacare. From 2010 through 2016, Republicans attacked Obamacare incessantly and it worked, giving them the House in 2010, the Senate in 2014, and the White House in 2016. Unfortunately, they stopped there and didn't actually go after Obamacare with the same fervor they held in their campaign rhetoric and now the Democrats have turned the issue on its head.
But here's the thing. Obamacare may have been bad, but the Green New Deal truly is worse. It's not even close. Even if we take at face value the notion that the Green New Deal is simply an ambitious framework around which real legislation can be forged, we have to look at the core issues entailed in order to see the true damage it can do. This is a socialist document. It's a call for the same levels of insanity that drive the Medicare-for-All movement. Within its frivolous attempts to change perceptions of air travel, cows, and job creation is a deep-rooted desire to convert Americans to needing more government.
NOQ Report needs your support.
The Green New Deal represents the far-left's desire to make more American dependent on government. At the same time, it aims to increase the levels of dependency for those who are already in need of assistance. It wants Democrats to latch their wagons on the notion that if we become a militantly environmentalist nation, that will serve the dual purpose of giving us fulfillment while saving the planet.
I believe most leftist journalists understand this, but they see in the ridiculous framework a path through which Republicans can be defeated wholesale in 2020 as long as the left can control the narrative surrounding the Green New Deal. They fear another Obamacare counterinsurgency that would wipe out the anti-Trump gains they made in 2018, so they've adopted a stance that the Green New Deal isn't as bad as Fox News says it is. Meanwhile, they're doing everything they can to say, "look over here and not at the Green New Deal."
Don't misread leftist media's resurging push to defend the Green New Deal as actually believing it's a good idea. Their big concern is if they don't nip it in the bud now, it'll harm Democrats in 2020. So they say "it's good, don't worry," and move on to another subject.

— JD Rucker (@JDRucker) February 19, 2019
The politics behind what the Green New Deal represents is more in play than the tenets of the proposal itself, at least in the eyes of leftist media. It's not that they want to promote the concept. They simply don't want the concept to derail their party in the next election.